Garden Line Palazzetti
Palazzetti provides a complete, comprehensive range of freestanding moveable multicooking ovens for your garden or outdoor space. Palazzetti's garden range includes barbeques, natural stone, and man-man stone (EasyStone) ovens. The Palazzetti range is produced in Italy, using the highest-quality stone and long-lasting materials to bring you a product that not only looks good but performs well, and is long-lasting. Edilart are Sydney's local importer and distributor of Palazetti products. Our range begins with outdoor wood fire pizza ovens, and will soon extend to offer the entire Palazzetti range (please enquire within).
There are a number of contributing factors that make Palazzetti a superior product. Palazzetti offer a vast range of barbeque and wood fire pizza oven products - all of which have a solid, sturdy structure that is long-lasting and resistant to harsh elements. The Palazzetti range simplifies maintenance for its users. Barbeques and pizza ovens are built from materials that once installed do not require further painting or upkeep. All materials use innovative technology to make them hugely heat resistant and available in several finishes.
Palazzetti's popularity can be attributed to the line's timeless elegance, the huge variety of barbeques and wood fire ovens to suit each style and use as well as the top-quality, wear resistant materials used to create these superior garden products. Edilart - Sydney's own importer and distributor of Palazzetti wood fire pizza ovens - brings Palazzetti to Australia from Italy. At Edilart, we believe the Palazzetti range will make the perfect feature for any Australian backyard, and fit seamlessly into the Australian way of life. Imagine pizzas by the pool come summer; an Australia Day BBQ to enjoy with friends and family; or even huddling around wood fire stove in cooler months. Palazzetti offers something for everyone, and a quality wood fire oven is truly something to be enjoyed with family and friends for years to come.
We are convinced that cooking is an art and our multi-cooking ovens Armand and Andree are really unique products that offer an unparalleled outdoor cooking experience.
Palazetti Armand
Made from steel painted with a matt metallic finish and East Stone brick-effect sides, it is available in white, yellow or brick red. Cooking chamber in AISI 304 stainless steel with refractory panels at the bottom and on the sides. Double fan oven. Cool-touch door handles. A warming, dough-raising or storage chamber. Baking chamber with a round vault and removable side panels. Interior light. Large wheels and long pull out handles make moving the oven easy.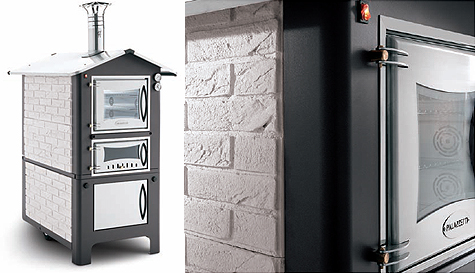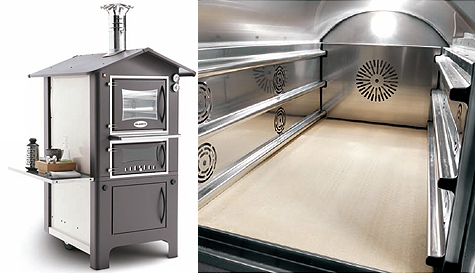 Palazetti Andree
Made from steel painted with a matt metallic finish and sides in painted metal available in ivory and red. Cooking chamber in AISI 441 stainless steel with refractory panels at the bottom and on the sides. Double fan oven. Cool touch door handles. A warming, dough-raising or storage chamber. Separate firebox with combustion air register. Timer and thermometer. Large, easy removable ash drawer to collect and throw away the products of combustion.
The Reason Behind a Choice of Multicooking Ovens
Thanks to the large cooking chamber (up to three oven racks can be fitted) and to the double fan it is possible to cook various food simultaneously at different heights without any mingling of flavour.
Excess steam discharge valve: excess steam is automatically discharged during the cooking process so that the food becomes crispy and dry.
Long operating hours on a small quantity of wood: the ovens have excellent heat insulation and preserve the heat for a long time so that cooking can continue for many hours without any need for extra firewood.
High temperature, shorter cooking times: in Palazzetti's oven the cooking chamber is not just heated from below but is completely surrounded by the firewood combustion fumes. This way the desired temperature is reached quickly and evenly without useless wastes of firewood. This is a very important feature because uniform heat distribution is fundamental for excellent cooking results.
Cooking must be a pleasure! This is why the Palazzetti multicooking ovens are equipped with all the functions needed to make cooking outdoors easier and safer with gourmet results.